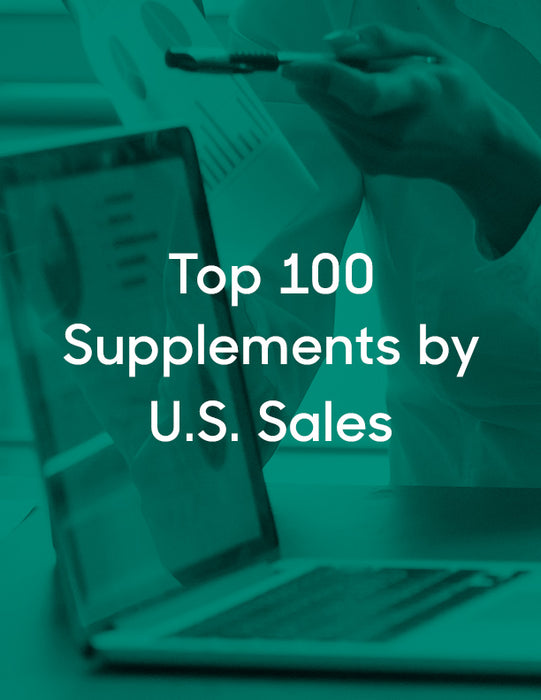 Top 100 Supplements by 2022 U.S. Sales
Save

Liquid error (snippets/product-badge line 32): Computation results in '-Infinity'

%
This single-tab raw data chart ranks the Top 100 Supplements by 2022 U.S. Consumer Sales, including data from 2018-2026e. 
View an empty version of this data chart.
List of supplements (A-Z):
5 HTP
Acai
Aloe
Astragalus
Ayurvedic Herbs
B Vitamins
Bee Products
Bilberry
Bitter Melon
Black Cohosh Root
Calcium
Cascara sagrada
Cat's Claw
Cayenne
Chamomile
Chromium
Collagen
Combination Herbs
CoQ10
Cranberry
DHEA
Digestive Enzymes
Drinks
Echinacea
Elderberry
Evening Primrose
Fenugreek
Fish/Animal Oils
Fruit and Vegetable Supplements
Garcinia
Garlic
Gelatin
Ginger
Ginkgo Biloba
Ginseng
Glucosamine/Chondroitin
Goji Juice
Goldenseal
Grape Seed Extract
Grapefruit Seed Extract
Green Foods
Green Tea
Gymnema sylvestre
Hawthorne
Hemp CBD
Homeopathics
Horny Goat Weed
Iron
Kava kava
Kombucha
Licorice Root
Lycopene
Maca
Magnesium
Mangosteen Juice
Meal Supplements
Melatonin
Milk thistle
MSM
Mullein
Multivitamins
Mushrooms
Noni Juice
Olive Leaf Extract
Oregano
Other Chinese Herbs
Other Minerals
Others Specialty
Papaya
Pau D'Arco
Peppermint and Other Mints
Pills
Pine Bark Extract
Plant Oils
Potassium
Prebiotics/Probiotics/Synbiotics
Psyllium
Red Yeast Rice
Rosehips
Rosemary
SAMe
Saw Palmetto
Selenium
Senna
Slippery Elm
Spirulina
Sports Nutrition Powders
St. John's Wort
Stevia
Tribulus terrestris
Turmeric
Valerian
Vitamin A/Carotenoids
Vitamin C
Vitamin D
Vitamin E
Vitamin K, H, Combo Vitamins, Other vitamins
Vitex
Willowbark
Zinc

Source: Nutrition Business Journal estimates derived from data provided by IRI Group (a Chicago-based market research firm), SPINS, Nicholas Hall's DB6 database, in partnership with Nielsen in specific countries, IMS Health (a healthcare information and consulting company), NBJ survey and interviews, and other sources.
(Consumer sales, $Mil) Some revenues are approximations that have been compiled from executives, industry analysts and published materials. Although NBJ has made every effort in partnership with Nielsen in specific countries, and IMS Health, and NBJ Surveys. Revenue figures are are not the result of audits and therefore not guaranteed to be accurate. Errors and omissions are unintentional.